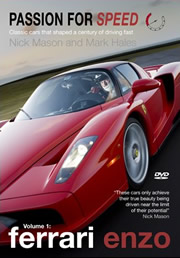 Into The Red Films
Passion for Speed on screen
Ferrari Enzo now available on DVD
Mark and writing partner Nick Mason had always wanted to film the action which provided inspiration way back in 1997 for Into the Red, and for the most recent updated and extended edition, Passion for Speed which has recently been published. Now, after nearly a decade, they have at last made the moving version. The DVD, Passion for Speed; Volume 1, Ferrari Enzo, is now available from Into the Red Films.
The Ferrari F60 Enzo was added to Nick's collection in 2005, and the car is one of the additional chapters in Passion for Speed. It also took Nick's collection past the century; the Panhard made in 1901 and the McLaren F1 from 1995 didn't quite span 100 years. It was fitting that the Enzo should be the first subject in what we intend to be a whole series of films.
The object of this thoughtful hour-long video though, is exactly the same as it was for the book; Mark will sit you in the passenger seat and take you along for the ride, while Nick explains with his charming brand of self deprecating wit, the reasons why he bought the car, and the experience, both good and bad which is living with it on a yearly basis.
The moving medium allows the pair to do a little more besides. There is more space and time to investigate the handling and performance of this extraordinary car, and to look in more depth at the technical detail. There is on-board footage showing in intimate detail the struggle Mark has with 650 horsepower and a chilly Anglesey race track. There is also a road drive with both authors which shows perfectly what it is like to try and fit a car of this size and performance into a rural English road.
It's the story behind the story of Passion for Speed, and a nice complement to the written word and the CD of engine sounds that accompanied it.
To order your copy, please visit www.intotheredfilms.com, or Contact Mark for more details.